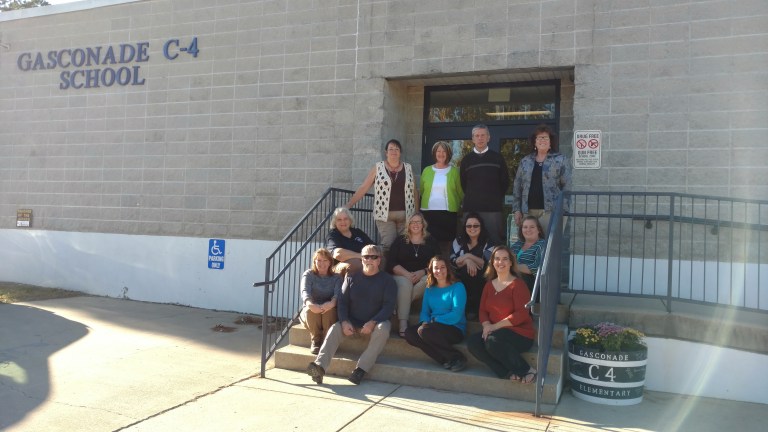 Superintendent – Jim Bogle
Principal – Jared O'Quinn
Secretary – Michelle Young
Pre-K/Kindergarten – Rebeka White
Hi!! I am so excited to be involved in helping Pre-School and Kindergartners begin their journey through the rest of their school career. It is my personal ambition to guide students to a great academic experience.
I have two wonderful parents, Rodney and Michele and one sister, RaJeana, who is younger. We have two amazing dogs. Roscoe is a miniature doberman and Lily is a border collie. I was born in Salinas, California; I moved to Lebanon when I was almost 4 years old; where I have lived in the same house for the last 20+ years.
I LOVE to include song, movement, fun and technology into the learning environment of my classroom. My classroom is a Whole Brain classroom. (Google it)
Favorites:
Animal: Lion
Color: Orange
Drink: Water and Sweet Tea
Past time: Spending time with my family, church, Crossfit and coaching soccer
Movie: The Lion King
1st Grade – Janis Mansker
2nd Grade – Jaquetta Sharp
My name is Jaquetta Sharp.
I am married to Joe and we have three children.
I am a second grade teacher.
3rd/4th Grade – Kimberly Brainard
I'm married to my husband Mike, we have a 14 year-old daughter and a 24 year-old son. Our daughter is a freshman at Lebanon and our son works full time at John Deer in Iowa. I have my BA in Elementary Education with endorsements in Early Childhood and Early Childhood Special Education. When I'm not at school I enjoy running, hiking, walking our four dogs, boating, and spending time at our lake cabin.
Middle School Math – Mary Childers
This is my 3rd year teaching. My fiance works at Justice Furniture and we have 5 great boys ages 16, 14, 12, 8, and 4 (almost 5). Between football, karate, robotics and wrestling they keep me very busy. In my spare time I like to read, hunt, fish and go camping. I will graduate in December from Missouri State University with my Masters in Elementary Education and an Elementary Mathematics Specialist certificate. I'm excited to be at Gasconade where I can share my love of math with these great kids.
Middle School Communication Arts/ Social Studies –
Renee Lane
Middle School Science/Social Studies – John Peterson
I teach Science and help coach the Archery team here at Gasconade C4. My wife is also a teacher ( at Richland ) and we have 5 kids, three boys and twin girls. I like to hunt, fish and look for arrowheads. I also like to work on the farm and run a sawmill. But nothing beats teaching here at Gasconade.
Special Education / Title I – Bethany Morrow
Title I Aide – Rhonda Armstrong
I have been a part of Gasconade C-4 School for 22 years, 11 of them as an employee. My job title consists of being one of the Preschool/Kindergarten aides, a title aide, the breakfast and lunch lady (not one of the cooks though) plus I have been the PTO President for the past 2 years. I have 3 great kiddos that attended and graduated from here. Dalton is 27, Dakota is 23 and Arlena is 21. I also have 2 beautiful granddaughters and 1 handsome grandson: Riley is 4 and the mother hen to 7 month old baby brother Cameron, and little miss AylaJo who is just one week old. Through all my time here at the school I have not only been an employee but also a Mother, Aunt, Great-Aunt, Cousin, Friend and a Teacher. I'm lucky to be part of Gasconade for all these years and to work with great teachers and great students.
Library – Sharon Brenton
Library Aide – Peggy Palmer
Art – Richard Talbott
Music – Don Brenton
P.E. – Rhonda Northrip
Computers – Florence Hillhouse
Counselor – Paula Cantrell
Speech Pathologist – Jane Baughman
Head Cook – Terri Gregory
I am Terri Gregory. I am the head cook, an evening bus driver, part of the PTO board, and I run the concession stand at the home games (come see me at them)!
I am the wife of the Custodian, Joe and Nanny to Hank Gunter (a student), my most important roles! I love working here with your kiddos!
Cook – Vicki Cotrel
I am Vicky Cotrel. I enjoy working at Gasconade C4. I am a cook here and love being with your children. I am married to W.H.Cotrel (Dub). We enjoy being outside doing things together and we are very involved in our church.We like working around on our farm. We have a horse and a few cattle, and we love fishing in our pond. We have 6 grandchildren that we love being with. I am happy to have two of my grandchildren at Gasconade C4 school with me, Weston and Autum. I love being in FCA and working with those students. I feel like we make a great team at Gasconade C4 and hope to retire from here someday.
Transportation Director/Custodian – Joe Gregory
Bus Driver – Patty Finley
Bus Driver – Steve Mourer
Bus Driver – Dean Munholland
Bus Driver – Terri Gregory